Joe Venice knows what it means to remember where you came from. He was a standout student-athlete on the football team during his time at Archbishop Stepinac High School between 2000-2004, and he continues to contribute to the school today as a British Literature teacher, the Director of Student-Athlete Development, and the Offensive Coordinator for the elite varsity football squad.
He is using his positions at the school to give kids the same opportunities he felt fortunate to have received. He was raised by his single mother in Yonkers, New York. He says, "All my coaches growing up were really like father figures for me." He especially credits legendary Coach Mike O'Donnell – the man who has been leading the program for 33 years including when Venice was an athlete – for being one of the most influential mentors in his life and helping him shape his core values and identities.
For Venice, it's not about the money or notoriety. "It's about the kids."  He never imagined becoming an educator or a coach, but when the offer was presented to him at a young age of 20 – while he was pursing a double-major in English and communications at Fordham University – Joe was ready to step up to the challenge. "Let me do the same thing and try to pay it forward," he says.
When Joe started coaching, he was less than two years removed from Stepinac. He had been teammates with some of the athletes, only  this time he was wearing a coaching hat and whistle instead of a helmet and pads. With no prior coaching experience he says he just "shut up and learned everything he could from the other coaches." He started his 12 year-to-date coaching career at the JV level and has worked his way up to varsity, crediting his incredible experience to an amazing staff at Stepinac.
"High school football is the best thing ever," Joe says.
Not only does it give kids in New York a positive family and keep them off the streets, but it teaches them skills and tools that are applicable in communities and industries in the real world. He says "football is a metaphor for life."
"I know college football and the pros do an amazing job as well, but there's something about high school football that is special because everybody gets a chance to be apart of that." Rivals Creative is happy to be apart of that too – conducting interviews, taking photos, designing graphics, and creating a fun atmosphere for the kids on events like Media Day, where they can feel like they're getting that NFL style experience without all the pressure.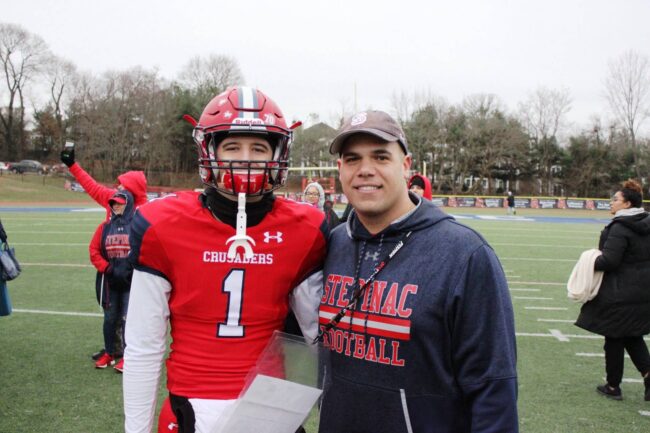 Joe had the opportunity to play ball at Fordham but decided to focus on his education. He sees teaching and coaching as the same because in both settings, you really have to reach the kids.
"It's about teaching kids to do the right thing, make the right choices, and be accountable, because one day they are going to have bosses breathing down their necks – not football coaches. Not everyone will play the game forever, so we have to build leaders that don't just lead to win games, but lead to do the right things for people around them."
A big part of Joe's job is keeping up with all the frequent changes in the education and sports communities. He recognizes that the recruiting scene is a bigger beast than it was when he was a senior in 04', and Covid regulations are only making it harder for his athletes to get seen on scouts' radar. However, for the sake of his kids, Joe Venice and his staff can't let that be a barrier. He believes football should be used "as a vehicle for bigger and better things like college."
Stepinac High School has teamed up with Rivals Creative Agency and commentator Kevin Davini to put on an impressive showcase that will highlight 300 student-athletes virtually to D1, D2, and D3 universities around the country like Clemson, Pitt, Dartmouth, Syracuse, and Stony Brook to name a few.
It's a really exciting time for the kids to have something to look forward to, Coach tells us, especially since there won't be a fall football season. There's already a lot of buzz circulating for the showcase which will be held on October 24th. Rivals Creative would like to give a big thanks to Coach Venice and wish good luck to the Stepinac program!
Go Crusaders!